Welcome to the Aliyah Now! Web site.
How Much Jewish Blood Must Be Spilled For Israel to End These Assaults With Force?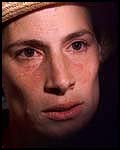 Noga Cohen, 32, whose three children lost limbs in yesterday's bombing. Three of Cohen's seven children - Yisrael, seven, Tehila, eight, and Orit, 12 - were on their way from Kfar Darom to school when their bus was sprayed by shrapnel from a 120 mm. mortar shell detonated by Palestinian terrorists. Yisrael lost a leg, Orit part of a foot, and Tehila was badly hurt in both legs.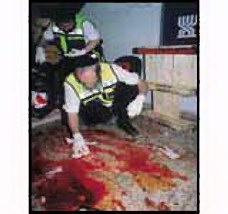 Members of the Hessed V'emet society clean up after the 3 Heshvan 5761 terror
attack in east Jerusalem on two young Jewish men.
The Time for War is NOW and the best weapon is ALIYAH!!
THE BEST WEAPON IS THE TOTAL EXPULSION OF THE PALESTINIANS FROM WITHIN ALL BORDERS OF ERETZ YISRAEL AND THE DESTRUCTION OF ANY OPPOSING FORCES.
Bnei Yishmaeli (the Arabs) are assaulting the Jewish people physically, verbally, and spiritually. Eretz Yisrael is now and forever will belong 100% to Bnei Yisrael. The best thing World Jewry can do to help is return to Eretz Yisrael and reclaim the land.
Jordan was created by the U.N. for the Arabs that call themselves Palestinians, so let them kick the Heshimite Saudi monarch out and take the only land they ever had any claim to!
Click below for the truth about the Palestinian "Peace Partners" and their total disregard for the value of human life, even there own.
Also click below for commentary from N.Y. Post Columnist ROD DREHER.
Aliyah Now! is an organization that promotes the return to Eretz Yisrael by the Torah Jew. On this site you will find interactive tools and valuable resources to prepare for an ascent to the Holy Land of Israel, the only home of the Jewish People. Please explore and provide suggestions for enhancements.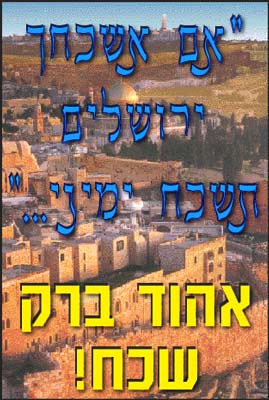 2000/5761 Aliyah Now! All rights reserved
Designed and Maintained by Ark Consulting